Every member of our hospital strives to contribute the maximum possible towards better patient care keeping the motto of Late Dr. A.A.Asirvatham M.S, F.R.C.S who worked untiringly reaching out to poor patients during service and after retirement in his new hospital. Kindness mixed with academic excellence is our mainstay at all levels.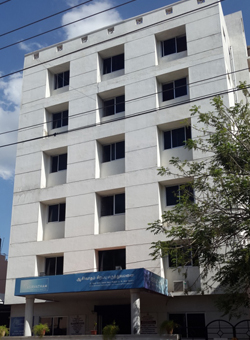 "The physician treats but god Heals" a favorable of Dr. A.A.Asirvatham M.S, F.R.C.S is imbibed deep into the minds of all employees of this Institution when patients are taken care of with atmost concern and interest to take each one of them better.
Our staffs are trained to handle patients kindly and efficiently. Unaffordable poor patients are given treatment at par with rich patients but their charges are subsidized from our funds. A charitable trust (J.H Trust) has been created to take care of poor patients.
Our hospital management software is equipped with full-fledged Electronic Medical Records which helps in billing system and also retrieving the identity of the patients. This hospital is a 5 floored building near Anna bus stand in North Madurai.
Spacious car park in the front side of the building helps patient and relatives to park their Cars. Security is provided to ensure safety round the clock Entry and Exit of the hospital has been planned in such a way that it allows easy transport of patients.